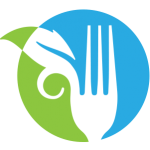 The Alan and Cathy Hitchcock Field & Fork Food Pantry serves members of the UF community experiencing food insecurity. We are open to everyone in the UF community, regardless of income, class, race, gender, housing status, or ability. We do not ask for verification of need - we only ask that you bring your Gator 1 card.
Current COVID-19 Operations
Guests may shop up to two times per week either by placing an online order or by taking a pre-made to-go bag. We are currently limited to our COVID-19 operations due to staff shortages. We are working to achieve enough staff so that we may return to our normal operations.
Special Thanks To Our Donors!
The Alan and Cathy Hitchcock Field and Fork Pantry would like to thank the below individuals and organizations. Feeding our campus family is no small task, and we cannot do it alone. The friends we've listed below have been pivotal in helping us help others. Through their hard work and compassion, Gators on our campus can focus less on worrying where their next meal comes from, and focus more on their classes, work, and furthering their education. Special thanks to these people and organizations, for all you do to support our campus!