Location:
The Pantry is located on Reitz Lawn across from the Hub and east of McCarty Hall A.
Nearby bus stops include Rawlings, Reitz, and Hub.
Drop Off:
Please use the service drive behind the Pantry to drop off donations. At this time, please use the black double doors on the front side of the building to drop off a donation and call The Pantry at (352) 294-3601 when you arrive.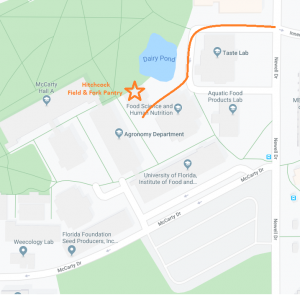 Hours of Operation
Spring 2021 (January 11th – April 30) :
Monday: 1PM – 5PM
Tuesday: 3PM – 7PM
Wednesday: 9AM – 1PM
Thursday: 3PM – 7PM
Friday: 9AM – 1PM